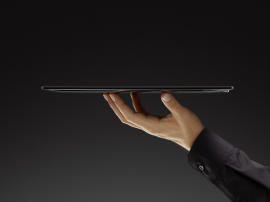 Plastic Logic
, which has been slowly unveiling its upcoming e-reader, has announced today the device will be called the
Que
and will be officially revealed at the upcoming
CES
event in January.
The e-reader will have the ability to read e-books as well as PDFs, PowerPoint and Word documents and the company will announce pricing and availability at their CES booth.
The Que is about 8.5 x 11-inches, the same as a sheet of loose leaf paper and will include Wi-Fi and possible connection to 3G via
AT&T's
network.
The Que was set to be launched this holiday season but has been hampered by delays, and in the meantime rivals Amazon and
Sony
have updated their lines.
"We're not worried about that at all and I think the main reason is that our reader is so different,"
Plastic Logic CEO Richard Archuleta says, however, via
Cnet
.
"We haven't seen anybody even come close to what we're doing with our product."
Plastic Logic has content deals with USA Today, Zinio, The Financial Times, LibreDigital and the Que's bookstore will be backed by
Barnes & Noble
.