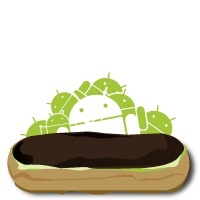 The long hyped (and rightfully so)
Motorola DROID
is finally official today, heading to
Verizon
on November 6th with a $200 USD price tag with two-year contract.
The phone has a 3.7-inch multitouch screen, full sliding QWERTY keypad, 5MP camera with dual-LED flash and autofocus, as well as 720x480 videocamera
capture
at 24fps.
The DROID will run on the
newly announced Android 2.0
and will also be the first Android phone to include Google Maps Navigation
GPS
for free turn-by-turn voice navigation.
The device will, as is standard, have Wi-Fi, 3G and Bluetooth 2.1 support. The phone will come with a 16GB
microSD
card as well, more than enough for music, movies and apps.
You will need a data plan for the phone, which begins at $30 USD, says Verizon.