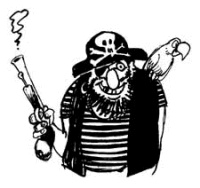 The prolific
warez
"scene" group
ViRiLiTY
has announced their voluntary retirement after releasing 8000 cracked software releases or keygens.
The group started in 2002 and their last release is a keygen for Ashampoo's Core Tuner.

Says their final NFO:

"After more than seven years and over 8000 releases the time has come, so that we are going to close the curtain now. We would like to thank everyone who supported us in the last years and especially those who have been loyal for years! Thank you for the nice friendships and the fun we had with all of you. A big sorry to the high quality software developers who have been defeated by us. But you can relax now, because the real competition is gone ;) Its quite sad to see that 0DAYs today dir is getting more and more empty. We hope the future will bring some new talents to make the scene what it was a few years ago. Highly active, talented and with a strong competition between the groups. I would like to thank the group, active and former members, for the nice time we had and the more fun we are going to have as being part of the scenes history :) ViRiLiTY has always been a small but very strong group, which made ViRiLiTY the way it was. This is the the final release that has been dropped under the label of ViRiLiTY. So please shut down any types of open positions that are running under the name of ViRiLiTY. Otherwise we are going to hunt you down and cut your penis of.
Good Bye
ViRiLiTY 2002-2009"