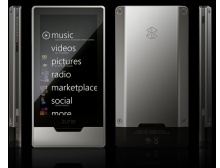 Microsoft
has updated the
firmware
of the
Zune HD
today, skipping over version 4.2 and moving directly to 4.3.
Says the software giant:

"Today we released the v4.3 firmware update for Zune HD players; this update adds support for upcoming 3d games and applications, as well as an auto-suggest feature for better text input, and other minor improvements. Enjoy!

What's new in Zune HD 4.3 Firmware

-Support for the upcoming 3D games and applications.

-Auto Suggest feature for text input.

-Faster web browsing experience.

-Landscape keyboard

-Keyboard option has been added in the settings section.

-New toggle between seek and presets under Radio.

-Under the Internet in settings, you can now toggle to default mobile or desktop webpage layout.

-Artists bios are updated; embedded links to other artists in text.

-Other bug fixes."
Of all the updates, the most popular will likely be the landscape keyboard (which frankly should have been there since the start) and the auto-suggest which will make it much easier to type URLs and other search queries.
Read our review of the device here: Unboxing the Zune HD