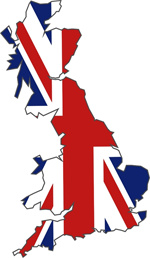 UK lawmakers officially announced the Digital Economy Bill intended to address issues identified by the Digital Britain Report. As expected it makes communications regulators at Ofcom responsible for curbing unauthorized P2P file sharing.
Initially it doesn't go quite as far as entertainment industry representatives would like, and only requires that ISPs forward warning letters about alleged illegal file sharing activity from content owners to their customers.
However, if Ofcom doesn't find that unauthorized downloads have dropped by 70% at some so far unspecified point in the future the Secretary of State would be authorized to ask Parliament for the authority to force ISPs to punish accused file sharers.
This action could
include
bandwidth caps, daily download limits, and of course the most controversial measure of all - kicking customers off the internet based on nothing but allegations.
ISPs have
publicly criticized the idea
of putting them in the middle of the fight against P2P-based copyright infringement for a number of reasons ranging from the cost of enforcement to the apparent lack of concern for consumer rights.
Last month TalkTalk's Andrew Heaney said,
"The lack of presumption of innocence and the absence of judicial process combined with the prevalence of wi-fi hacking will result in innocent people being disconnected."
BT's John Petter voiced a similar concern, saying,
"We believe abuse of copyright is wrong. However, we have real concerns about the government's plans and the lack of legal protections for accused individuals. We believe that technical measures are not the way forward and that a system of court fines for repeat infringers is preferable."
Simply from a customer relations point of view it seems unreasonable to force a business to actively participate in sanctioning their customers on the basis of an unproven allegation. Wi-Fi theft and the difficulty in determining who was assigned an IP address at any given time make it certain that some number will be
wrongly accused
and guilty of no infringement.
Even some lawmakers have spoken out about this approach, which they say doesn't address the real problem. That problem, they say, is rights holders'
poor reaction to new technology
.
In fact the one problem everyone can agree the recording industry actually faces, a continued slide in CD sales, wouldn't be addressed in any way by kicking people off the internet. Especially considering file sharers have been consistently shown to
purchase more music than the average consumer
.
Cutting customers off from your primary marketplace is hardly a way to get them to give you more money.