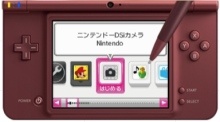 The
Nintendo DSi LL
has launched in Japan this weekend to strong demand, with
Kotaku
reporting that many game stores had lines 100-deep with would-be buyers.
The newly updated handheld has dual-screens that are 93 percent larger than its predecessors and include a larger stylus as well as downloaded games, right out of the box.
Nintendo
says the larger screens will be helpful for users who want to use the Internet browser or who need larger fonts for gaming and Internet.
The handheld sells for JPY 20,000 (about $220 USD), a premium from the standard
DSi
which retails for JPY 18,900.
The
DSi
LL (redubbed
XL
) will hit the EU and NA markets in the Q1 2010.