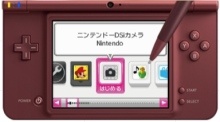 The
Nintendo DSi LL
launched in Japan last weekend, and was met with
large lines of potential buyers
.
Today, according to the latest
Enterbrain
sales figures, the LL has sold 103,524 units in Japan in its first two days of sale, a huge number for a device which many shrugged off as a minor update.
The
DSi
sold 170,000 in its first two days on sale in comparison, and the
PSPgo
sold under 40,000.
The newly updated handheld has dual-screens that are 93 percent larger than its predecessors and include a larger stylus as well as downloaded games, right out of the box.
Nintendo
says the larger screens will be helpful for users who want to use the Internet browser or who need larger fonts for gaming and Internet.