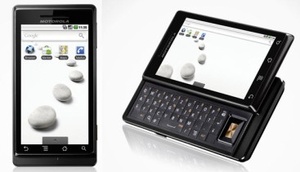 The UK-based online retailer
eXpansys
is reporting that the
Motorola Milestone
(the DROID without Google Maps Navigation) has sold out in the region in "record time," a brisk 2.5 hours.
"Today (Thursday 10th December) the first shipment of the Motorola Milestone was delivered into the UK, to be sold exclusively by eXpansys.com. Within 3 hours of the product being listed as 'in stock' on the eXpansys site it sold out. This makes the Motorola Milestone the fastest selling gadget in the website's 11 year history, even more successful than the iPhone",
said the retailer, via
Pocket-lint
.
The company added that they were forced to increase their direct order from Motorola twice, but that they should be re-stocked in time for Christmas.
Adds Roger Butterworth, eXpansys' CEO:
"The demand for the Motorola Milestone has been staggering. We received the units at 10am on Thursday, 2.5 hours later we had sold out. A second shipment is already on the way and should be arriving in time for Christmas orders".