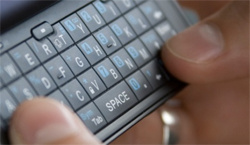 According to a new study conducted by the
Pew Internet and American Life Project
, about 15 percent of American teens "sext" using their mobile phones, sending either sexually-oriented texts messages or sending photographs/videos in which they are nude or otherwise disrobed.
The older the teens get the larger the percentage gets, and the study shows that boys and girls are equally as likely to "sext".
"Kids have experience with it,"
adds Amanda Lenhart, a Pew research specialist.
"It's something they have to deal with and talk about in their lives."
The report is based on interviews with 800 teenagers with their guardians in September. WiredSafety.org says the numbers may be skewed to the lower side because the teens were with their parents.
"If this many teens were willing to admit it in front of a parent or guardian, you have to wonder how many teens are really doing it,"
says Parry Aftab, executive director of the group.
Those with unlimited texting plans, as well as those that paid for their own service were the most likely to sext.