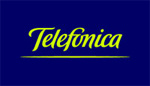 Telefonica
has announced its purchase of the
VoIP
provider
Jajah
for 145 million euro ($210 million USD).
Jajah is available in 200 countries and has a consumer base "in the millions." The service is used in many social networking apps as well as instant messaging (IM) clients.

The deal will be completed when it gains official approval from the Spanish version of the FTC, the CNC.

Telefonica is the first major carrier to purchase a VoIP provider, likely signaling the worry that traditional voice services on mobile phones will move to Internet calling in the next few years, especially with the broader release of 4G networking.