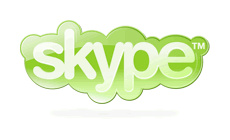 Skype
has announced today the addition of
720p
HD
webcam and software support for their service, but perhaps more notably, deals with both
LG
and
Panasonic
for Skype-enabled HDTVs.
Current Skype users can upgrade to the new 4.2 beta which can achieve 1280x720 HD
resolution
at 30fps. The company will begin selling HD webcams, through faceVision, for $100 which included video encoding and on-board processing.
The HDTVs will have integrated Skype software, built-in 720p webcams and mics, for voicemail, landline and mobile calls.
Pricing should be made available at
CES
.
Pic via
Giz
: