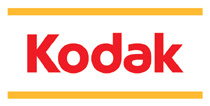 Eastman Kodak
has said today it is suing
RIM
and
Apple
for patent violations relating to the cameras used in
BlackBerrys
and the
iPhone
.
The complaint was filed with the International Trade Commission and alleges that the smartphones infringe on Kodak patents "covering technology for previewing photos."

Kodak is asking for an injunction on the import of phones sold by both companies. The company is also seeking unspecified monetary damages, and the end of the use of the technologies.

RIM and Apple declined comment but it is not as if sales of the popular devices are in immediate trouble. Patent disputes sometimes take up to 10 years, however ITC complaints usually take only 15 months.

"We've had discussions for years with both companies in an attempt to resolve this issue amicably, and we have not been able to reach a satisfactory agreement," added Laura Quatela, Kodak's chief intellectual property officer. "Our primary interest is not to disrupt the availability of any product but to obtain fair compensation for the use of our technology."

Kodak currently has 1100 patents relating to digital photography technologies and licenses them to over 30 companies.