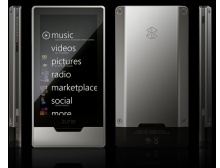 Although it is unclear whether the price cuts are temporary or permanent,
Microsoft
has cut the prices of their
Zune HD
models from $220 to $200 for the 16GB model and from $300 to $270 for the 32GB version.
Amazon
and
Wal-Mart
have taken the cut a bit deeper, dropping the prices to $190 and $250, respectively.
Microsoft has implied that the prices are temporary "sales" prices but has not said when the promo will end, if ever. At the current price point, the Zune
HD
offers a discount from a comparable
iPod Touch
, the market leader for media devices.
The software giant still has under 5 percent market share while
Apple
controls over 70 percent.