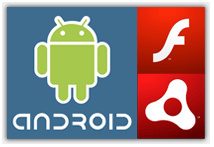 Adobe
has officially announced
Flash Player 10.1
and
Adobe AIR
for
Android
today at the
Mobile World Congress
, setting a time frame as well for its release.
The blog post by
The Flash Blog
says:
I have also been testing a selection of mobile Flash sites, created by key partners like YouTube and ESPN, and I am very excited about the future of Flash in the mobile browser.
Timeframe: Within 3 months.
Watch the video here:
Adobe announces Flash Player and AIR for Android