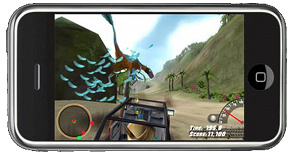 Last week an amendment to their trademark on the iPhone name which suggests a bigger emphasis on making it a dominant gaming platform. The amendment expands the trademark to include handheld units for playing electronic games.
There have been many game apps, both free and commercial, available for the iPhone since the App Store launched in July of 2008. So why extend the trademark now?
One possible explanation is the
success of Google Android
. Android phones are still far behind the iPhone in market share, but the gap is slowly closing.
In order for the iPhone to continue its stellar growth in the face of increasingly stiff competition Apple needs to emphasize what they offer that competitors don't.
The most obvious area where the iPhone leads competitors is the number of apps available. Out of all the app categories, games are probably the easiest to market to the masses. Handheld gaming is already popular enough to make the Nintendo DS possibly the most successful game platform of the last 3 years.
Although it's perhaps not as universally popular as music playback and mobile email or as innovative as GPS services, games are more dependent on attracting third party developers, which is arguably the biggest advantage Apple has.
They're also one of the more popular app categories, perhaps the most popular.
Smartphones have significant disadvantages in the mobile gaming market. The price of internet service makes them unsuitable for most kids and the combination of multi-touch and an accelerometer simply doesn't work that well for some games.
At the same time, the iPhone is very well suited for some types of games not typically associated with handheld consoles. Multi-touch works nicely for card games and rolling dice via the accelerometer feels a lot more like the real thing than simply pressing a button. It also doubles pretty nicely as a steering wheel.
The
upcoming release of Windows Phone 7 Series
, which Microsoft would certainly like to turn into a successful gaming platform could also figure into Apple's strategy. As a company with an existing line of game consoles they may be able to make up ground quickly.
Continued dominance in the smartphone gaming market could be the best tool for holding off the competition.