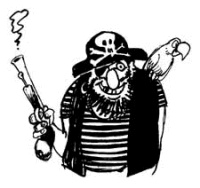 A Danish man's house was recently raided by representatives of Antipiratgruppen in cooperation with court officials after they tracked him down by IP address. Antipiratgruppen is sponsored by companies in the movie and music industries.
After identifying his IP address through torrents found via The Pirate Bay they were able to to persuade the court to force his ISP to reveal his identity.
Although the group only claims to have foudn evidence from their initial investigation that the man shared a handful of files, Antipiratgruppen claims hard drives seized in the raid will show he is guilty of significantly more acts of copyright infringement.
This is the second high profile raid by the anti-piracy group this year.
Last month
their target was the admin of a private BitTorrent tracker called EliteBits.