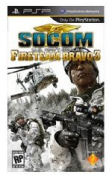 GamesIndustry.biz
has spoken to some games retailers about moves made lately by game publishers that could potentially hurt the sale of pre-owned games, or preempt further measures that could have the same effect.
Electronic Arts
is experimenting with
"Project Ten Dollar"
, which provides downloadable content with titles to buyers of new games, but requires consumers who buy a second hand copy to pay for the DLC content.
Just this week,
Sony
also made a discouraging decision to include a voucher with the latest
SOCOM
title for the
PSP
that can be used online to unlock online content for the game. However, if a game is sold back to a store and bought pre-owned, the new owner would have to pay $20 for a new voucher to unlock the same features. Unsurprisingly, Sony describes it as an anti-piracy move.
The broad consensus among those who spoke to
GamesIndustry.biz
(link requires registration) about the two new systems is that it they hurt consumers.
"The person you're pissing off the most is the consumer,"
Chipsworld
MD
Don McCabe
told GI.biz.
"This affects [them] directly - they pay the same amount of money and yet the resale value is much reduced. From a retailer's point of view, they'll just readjust [the price] bearing in mind you have to buy the voucher."
McCabe made an excellent point that applies to EA especially. He stated that because of EA' popular franchises such as
FIFA
and
Madden
, the market for pre-owned games actually drives sales of new games for EA.
"They are effectively what I call a franchise software house in that they upgrade their titles; FIFA, Madden all of these are effectively the same title upgraded each year. And people trade in last year's for this year's. You go anywhere and you'll always find second hand copies of FIFA 07, 08, 09 - it's one of the ones we get the most of."
SwapGame
CEO
Marc Day
has the same opinion as McCabe, and believes that publishers don't fully understand the potential consequences of such moves.
"At SwapGame, the majority of customers who trade in for cash or credit do so to acquire new games they could otherwise not afford. Through trading in, we aim to help the customer make gaming more affordable, providing them with a way to buy new games,"
Day said.
"The move to DLC exclusive content is an interesting step, and this obviously provides the publisher with another revenue stream. This move will definitely make the game less valuable on the pre-owned market, so it will be sold cheaper, meaning customers will get less value when trading in."
McCabe also warned that retailers are becoming increasingly wary about other moves made by games publishers that could lead to them taking customers away from the stores. Games that require online activation, for example, result in the publisher receiving the personal details of customers which they can then use to contact the customer directly and attempt cut out the
"middle man"
.
"From a retailer's point of view, you're always going to have that in mind. Why should you give your customers over to an organization that's going to compete with you? You're going to be less likely to want to promote that game,"
McCabe said.
More opinions:
GamesIndustry.biz
(requires registration)