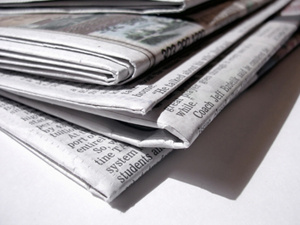 A new study from the
Pew Internet & American Life Project
has revealed that 61 percent of Americans now get their news online, although local TV remains the most popular method of getting the news.
Overall, 50 percent of Americans read local print newspapers, and 17 percent read national papers. 59 percent of Americans get their news from online and offline sources, with only 2 percent getting their news exclusively from online sources.
Figuring out where users get their news is not as easy, however. 65 percent do not have a favorite site, and 80 percent use 2-5 sites for their daily news. 56 percent use portals such as
Google News, Yahoo News
or
AOL
, and younger users follow specific news organizations or journalists via
Twitter
and
Facebook
.
18 percent listen to daily podcasts from the news organizations.
What are people searching for when they go online? 81 percent looks for the weather, 73 looks for national events, 66 percent look for health events, 64 percent look up finance or other business. Rounding up the top 5 is international events, at 62 percent.
Pics via
RWW
: