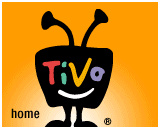 A federal appeals court has ruled in favor of
TiVo
today in the long-standing patent case brought against them by
Dish
and
EchoStar
, with the news sending TiVo's stock shares up over 55 percent on gigantic volume.
The district court had ruled last year that Dish and EchoStar had violated TiVo patents and ordered a permanent injunction on DVRs being sold by the company's that used the infringing technology.

The companies were also told to pay TiVo $300 million in damages, and the latest ruling will finally pave the way for TiVo to receive that money.