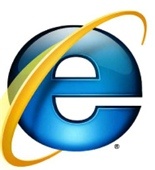 Aten Design Group
, a design firm in Colorado has hosted a "funeral" today for the aged web browser
Internet Explorer 6
, which is quickly being thrown out in favor of faster, safer browsers, including its descendants IE7 and IE8.
The service will have a coffin with a dummy inside with an IE6 logo for its head. Anyone who attends is welcome to eulogize the browser with memories, good or bad.
Some users already posted their thoughts, on the invitation page.
"I feel terrible admitting this, but ... I never really liked him,"
writes "Eddie Escher," via
CNN
.
"He had so many hang-ups, and he looked awful -- especially in his later years. But... he was always there when you needed him. You have to give him that."
The real nail in the coffin (pun intended) is coming next week when
Google
pulls all IE6 support from its Google family of sites, including Docs and Gmail.
YouTube
will drop support within a month.
All I will say on the matter is I hope IE6 dies fast, there is absolutely no reason anyone should be using it, ever.