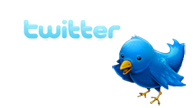 According to a new survey from security firm
Barracuda Labs
, 73 percent of
Twitter
accounts remain "inactive," with less than 10 total Tweets.
Despite the large numbers, Barracuda says the number is down, from 79 percent in June of last year.
34 percent of Twitter users have never even made one Tweet.
A few of the other stats:
-74 percent of Twitter users have under 10 followers.
-60 percent follow less than 10 people
-34 percent of users have more followers than people they are following
-Growth jumped 21 percent in April 2009, when Ashton Kutcher was on the verge of hitting 1 million followers.
Which group Tweets the most? Let's check the chart:
Those with around 700-1000 followers seem to Tweet the most, with celebrities and those with millions of followers not Tweeting nearly as much.