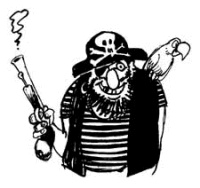 The Hollywood Reporter
is saying today that over 20,000 individuals have been sued for alleged illegal downloading of movies by the under-the-radar
US Copyright Group
, a firm based in the nation's capital.
Making the suits different from those in the past is that these suits are over small independent films, for example the films "
Steam
Experiment," "Far Cry," "Uncross the Stars," "Gray Man" and "Call of the Wild 3D."
All of the users were "caught" downloading the films from
torrent
trackers.
The Group says there are up to 30,000 more suits coming, for five different films.
The users were caught thanks to new German technology dubbed
Guardaley IT
, which "allows for real-time monitoring of movie downloads on torrents." The software captures IP addresses when a user begins downloading, and then back checks the files to make sure it is the correct copyright protected movie.
We will certainly keep you updated.