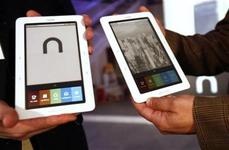 The
Barnes & Noble Nook
e-reader will sell at
Best Buy
, says the retailer, expanding distribution of the popular device as it faces off against the
Kindle
and the
iPad
.
Best Buy has over 1000 brick-and-mortar retail stores, and the Nook will be available in all starting on April 18th, with the same price of $260 USD. Until now, the device was only at sale at B&N stores and online.
As part of the deal, Best Buy will also add BN eReader software to some of the laptops it sells.
Apple
has already sold over 450,000 iPads and the Kindle remains the clear leader in the e-reader market.