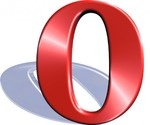 Opera
browsers, in all variations, are now being used by 100 million people globally, says the company, with 50 million using it on Windows, Macs and
Linux
computers, with the other 50 using Opera Mini on their mobile phones.
Thanks to the popularity of the mobile version, as well as the new "ballot box" on new Windows computers in the EU, Opera says year-on-year growth is 30 percent.
Additionally, more users access the Web using Opera through their gaming consoles and set-top boxes.

"Our focus on speed, security, innovation and usability continues to yield results. We always listen to the needs and wants of our users, and they reward us by choosing Opera,"
added Jon von Tetzchner, Co-founder, Opera Software.
"Opera's record growth shows that we are on the right track, and that as user needs grow, we are growing right along with them,"
says Lars Boilesen, CEO, Opera Software.
"Opera for Desktop delivers the fastest browsing experience on the planet, with a visionary approach to features and a user-friendly design."
You can download Opera here at AfterDawn:
Opera v10.x