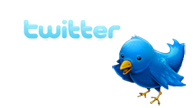 Twitter
co-founder
Biz Stone
revealed on Wednesday that the popular micro-blogging source has over 105 million registered users. The site is now adding 300,000 new users a day to its service, which launched back in 2006. The site receives about 180 million unique visitors a month, Stone revealed to software developers at the
"Chirp"
development conference.
Speaking to over 1,000 software developers in attendance, he revealed the figures of registered users and traffic for the first time. The company told of how many Twitter users access the service through software applications created by third-party developers. Twitter has started to create its own similar software solutions as well as buying up some, which might not be good news for many of the developers.
"It is clearly a tension and it is why we are trying to show where we are going,"
Twitter co-founder
Evan Williams
said, adding that it was natural for Internet services to have both complementary and competitive relationships with third parties that develop software building on its technology platforms.
"There are thousands of ways to use Twitter that haven't even been imagined yet. There is so much left to invent. It is really early and we can do it together,"
Evans told the crowd
.
On Tuesday, Twitter revealed that it will start showing promoted tweets on search results, where companies and others can place 140 characters or less advertisements.