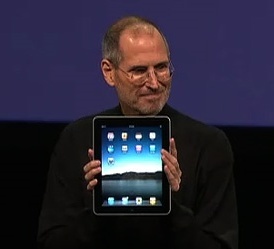 Apple
has announced today that on Friday the company sold its 1 millionth
iPad
tablet, just one month after its release.
The iPad, in its Wi-Fi-only version, was released on April 3rd, and
quickly sold over 300,000 units.
Additionally, iPad owners have downloaded 12 million apps from the App Store, and over 1.5 million e-books from the newly launched
iBookStore
.
"One million iPads in 28 days—that's less than half of the 74 days it took to achieve this milestone with iPhone,"
says
CEO Steve Jobs.
"Demand continues to exceed supply and we're working hard to get this magical product into the hands of even more customers."
Developers have created 5000 apps specifically for the iPad, with some of the most popular being legal
streaming
movie and TV show services
such as Netflix
.
The Wi-Fi only version is available now starting at $499 for the smallest capacity version.