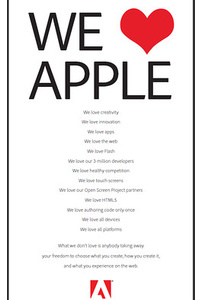 Adobe
has taken an interesting new route
in their ongoing feud
with
Apple
, starting a new ad campaign highlighting the company's "love" for the electronics giant.
The full page ads ran in giant newspapers such as
The NY Times
and the
Wall Street Journal
and is accompanied
by a site
, promoting Adobe's message.
Apple CEO Steve Jobs has called Adobe's
Flash
technology outdated and unreliable, and has practically banned it from their "i" devices. Jobs also adds that Flash was designed for
desktops
using a mouse, and not appropriate for small, touchscreen devices.
The ad is only 82 words, and starts with:
"We love creativity," "We love innovation," "We love apps,"
and finishes with:
"What we don't love is anybody taking away your freedom to choose what you create, how you create it, and what you experience on the Web."
Apple quickly
responded, saying
:
"We believe in open Web standards too but Flash is not an open Web standard like HTML. It is a proprietary Adobe product. Just ask the W3 consortium that controls Web standards. They have chosen HTML5 as the open web standard to move forward with."