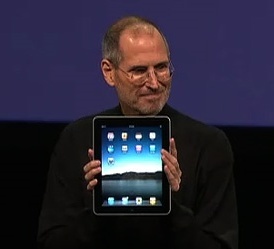 The battle over Apple's decision to keep Flash of its
iPad
and
iPhone
devices has taken a new turn this week, with the CEOs of the companies slugging it out with rant posts.
Over the course of a few months, the niceties between
Apple
and
Adobe
have broken down, with Apple practically saying Flash is not good enough to be on the iPad and one Adobe developer going as far as to tell Apple
to screw itself
.
This week, round two of the "epic" battle began, with Apple CEO Steve Jobs posting a 1700 word rant with his thoughts on Adobe and Flash, and why HTML5 is better. He also takes
aim
at Flash by saying it affects battery life negatively, is hard to use on touchscreen devices, and is not secure. I will post the letter at the end of the article, but Jobs concludes his post by saying:


"Flash was created during the PC era – for PCs and mice. Flash is a successful business for Adobe, and we can understand why they want to push it beyond PCs. But the mobile era is about low power devices, touch interfaces and open web standards – all areas where Flash falls short. The avalanche of media outlets offering their content for Apple's mobile devices demonstrates that Flash is no longer necessary to watch video or consume any kind of web content. And the 200,000 apps on Apple's App Store proves that Flash isn't necessary for tens of thousands of developers to create graphically rich applications, including games. New open standards created in the mobile era, such as HTML5, will win on mobile devices (and PCs too). Perhaps Adobe should focus more on creating great HTML5 tools for the future, and less on criticizing Apple for leaving the past behind."
Hours after the letter was posted, Adobe CEO Shantanu Narayen responded, calling Job's points a "smokescreen." Additionally he argues Flash is an open specification, and Apple's restrictions have "nothing to do with technology" and are more on protecting Apple's bottom line.
As for Flash's negative affect on battery life? "Patently false."
Steve Jobs: Thoughts on Flash
Highlights: The Journal's Exclusive Interview With Adobe CEO