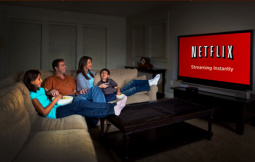 The
Netflix
app for the
iPad
, one of the top ten most popular apps since the device's launch in April, has been updated this week, giving users one of their most asked-for features.
With version 1.0.2
, users can now connect the iPad to a TV and stream the movie or TV show you are watching on the big screen, freeing you from the 9.7-inch iPad display.
You will need to use one of
Apple's
VGA
, component, or composite dock cables.
The quality will not be great, but you can watch the streams at resolutions up to 1024x768.
While the app is free, to use Netflix's "Watch Instantly" catalog, you will need a subscription at $9.99 a month. The adapter from
Apple
will also cost you about $30.
Additionally, 1.0.2 fixes some minor bugs that were causing crashes.