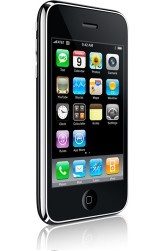 Yesterday,
AT&T
announced new data plans
for their smartphone line, including the
iPhone
and iPad tablet, which will be less expensive for customers, but will also limit data use. The carrier also eliminated its unlimited plans for new subscribers starting June 7th.
Slacker
, the online radio service, has announced today that iPhone supported offline playback is now available, giving Slacker Radio Plus subscribers the chance to download up to "thousands" of audio tracks from custom stations then listen to it later without the need for an active Internet connection.
The music caching feature has been standard on
Android
and
BlackBerry
devices since earlier this year.
Slacker's announcement is great news for future iPhone owners, who may be fans of
streaming
music but will be trapped with capped 3G data thanks to the new data plans. Slacker subscribers can now download the music they want while connected to a home wireless network or a Wi-Fi hotspot, and then play it back later while saving
bandwidth
.
All that is needed for current Slacker subscribers is to download the updated Slacker 2.0 app.