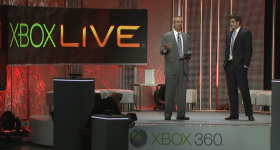 At
Microsoft
's E3 Press Conference today, it was revealed that a deal with
ESPN
will bring live sports and on-demand content to
Xbox Live
. The exclusive deal with Microsoft will bring 3,500 live and on-demand sports events including college football, college basketball, Major League Baseball, NBA basketball, soccer and more. Giving a demonstration of the Xbox Live ESPN features was
Josh Elliot
and
Trey Wingo
of
SportsCenter
,
They showed how ESPN on Xbox Live can take advantage of the new Kinect motion sensing system when it is launched in November. While watching a game, it was demoed how telling the Xbox 360 which side you want to join (in the demonstration, "Xbox: Join USC") displays how many people are cheering for each side.

Saying "Xbox: Replay" replayed a touchdown from the game, while real-time polls and trivia will also be displayed to enhance the experience. ESPN.com content can be accessed to bring up highlights, game scores, statistics and other information that is available.



Most of the 3,500 sports events that will be delivered through Xbox Live from ESPN will be available in High-definition. One of the most welcome parts about the ESPN deal is it will bring content to Xbox Live Gold members at no extra charge.