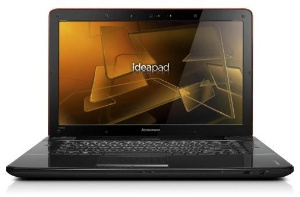 Lenovo
announced its first 3D laptop on Thursday. The
Lenovo IdeaPad Y560d
features the
TriDef 3D
technology solution which includes a 3D screen, 3D glasses and of course software.
"Fun is a notebook that brings multimedia to life—and the IdeaPad Y560d does this in a dramatic fashion with a truly unique 3D viewing experience,"
said
Dion Weisler
, vice president, business operations, Lenovo.
"While 3D technology has been around for ages, it has not been readily accessible to consumers within the home. Lenovo is helping bridge this gap by delivering consumers a 3D experience on a familiar PC platform that can be viewed and enjoyed when and where they want."

The Y560d features a 15.6-inch 16:9 high-definition screen. The TriDef 3D technology (TriDef Media Player) software can transform a standard movie into a 3D experience (the software does not support transforming Blu-ray or HD DVD content though), while TriDef Photo Transformer can turn standard photos into 3D as well.

The Y560d also features Lenovo's new innovative Enhanced Experience RapidDrive technology which combined traditional HDD and SSD storage solutions to deliver a fast boot of the installed Windows 7 operating system (this functionality is optional). The RapidDrive technology can boost Windows 7 boot by 66 percent and open applications twice as fast.

It also speeds up the copying of data. The Y560d can be configured with up to 8GB DDR3 memory and up to 750GB HDD storage so users don't have to worry about running out of hard drive capacity when saving their favorite movies, music and games.

The IdeaPad Y560d is powered by an Intel Core i7 processor featuring Intel Turbo Boost Technology, and features a high-performance ATI Radeon HD5730 1GB graphics card. It will be available with JBL-designed speakers and Dolby Home Theater surround sound – perfect for enjoying music and movies.

With Switchable Graphics, users can toggle between performance and energy-saving modes for extended battery life. A Blu-ray drive is optional, while the laptop also features a HDMI output for connecting to a television.

The Y560d also features a "SlideNav" which is a touch-sensitive slide bar application for easy desktop navigation, OneKey Theater II which optimizes video playback and an Ambient Light Sensor that automatically adjusts the screen brightness based on the user's distance from the display. Optional high-speed 802.11n wireless capabilities are also available.

The laptop will be available by the end of June, starting at approximately $1,199.99.