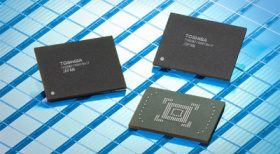 Toshiba Corp.
announced on Thursday that it will launch a 128-
gigabyte
embedded NAND flash memory module designed for application in a wide range of digital consumer products, including smartphones, tablet PCs and digital video cameras.
The new 128GB embedded device integrates sixteen 64Gbit (8GB) NAND chips manufactured with Toshiba's 32-nanometer process technology. Along with the dedicated controller, the product measures just 17 x 22 x 1.4mm. The module is fully compatible with the latest
eMMC
standard.
It makes Toshiba the first company to successfully combine 16 64Gbit chips, using applied advanced chip thinning and layering technologies to produce individual chips just 30 micrometers thick.
Toshiba offers a line-up of NAND flash memory packages in densities now ranging from 2GB to 128GB. They integrate a controller to manage basic control functions for NAND applications, and are compatible with
JEDEC eMMC Version 4.4
and its features.
Samples of the product will be available in September and mass production is set to start in the fourth quarter of 2010.