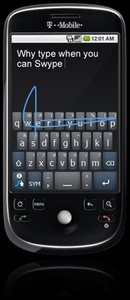 Swype
, the speed record breaking texting alternative for
Android
phones has gone open beta (with limited functionality) to anyone who signs up for a limited time.
The app was formerly only available to a very limited amount of users who got lucky to sign up for the beta in the past, or natively on smartphones like the
MyTouch 3G Slide
.
Swype allows for extremely fast typing, as users do not type letter by letter with their fingers, but instead slide their fingers from letter to letter, with Swype "magically" knowing what word you are trying to write.
For the next few days, Swype beta is available at
beta.swype.com
, with users submitting an email and getting sent a download link for their respective phone.
Swype does note, however, that the beta will be open to the public for a very limited time, will be available in only Spanish, English and Italian, and will have "limited functionality," although it is unclear what will be missing.