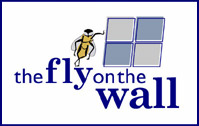 Until March,
Theflyonthewall.com
posted research reports and press releases on its website, usually minutes before the banks the headlines came from even shared the reports with their clients.
In March however, U.S. District Judge Denise Cote ruled that the site "engaged in systematic misappropriation,", making money and getting a "free ride" from analyst moves which usually move stock prices positively or negatively.
The banks that brought the case were
Merrill Lynch, Barclays
and
Morgan Stanley
which also tried to ban the site from using their research reports.
However, TFOTW's appeal has gained some legs today, with both
Google
and
Twitter
backing the site, saying blocking immediate news dissemination is "obsolete" and "wrong."
Reads the filing
:
"News reporting always has been a complex ecosystem, where what is 'news' is often driven by certain influential news organizations, with others republishing or broadcasting those facts -- all to the benefit of the public."
Both companies say if the court's decision is upheld, the banks will go after other sites that offer real-time news updates in the financial markets.