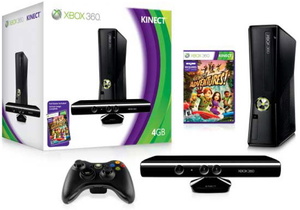 Although the
Microsoft
store and many retailers have had the motion control system priced at $150 for some time, the company had refused to confirm the price, officially.
Today, the mystery is no longer a mystery, as Microsoft has confirmed the official price is in fact $150. The system will ship November 4th as leaked, and will come bundled with "Kinect Adventures."
Additionally,
Microsoft has launched
a new slim model of the Xbox 360, which will replace the current
Xbox 360 Arcade
model.
The new system will have 4GB of internal flash memory and matte finish and will launch August 3rd for $200.
As a bundle, you can get the new slim system and Kinect (with 'Adventures') for $300.
Kinect games will sell for $50.