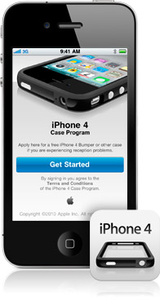 Apple
, following the PR disaster that was "antennagate," announced last week that they would be providing free cases to
iPhone 4
buyers. The cases are intended to address the
growing controversy
over the phone's
design flaw
, which can
cause dropped calls
when it is held in a particular way.
Today, the have started the
iPhone 4 Case Program
giving owners a chance to get their free bumpers, while at the same time, getting full refunds for any case or bumper they have purchased since the phone's launch. Apple has set aside $175 million for the program.
If you are an iPhone 4 owner, the process is pretty simple:
1. Download the iPhone 4 Case Program app from the App Store.
2. Launch the app on your iPhone 4 and sign in using your
iTunes
Store account or Apple ID.
3. Select your Bumper or case.
If you purchased your iPhone 4 before today, you must apply for the program by August 22nd. For future buyers, up until September 30th, you will have 30 days from purchase time to apply.
Additionally, if you purchased a bumper from Apple or AT&T, you will get a full refund. You can view details on that here:
http://www.apple.com/iphone/case-program/