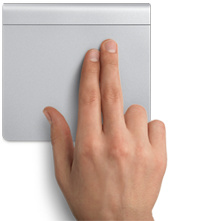 After months of speculation,
Apple
has finally, officially introduced their
Magic Trackpad
desktop companion.
The Trackpad allows desktop users to enjoy multitouch gestures, just like notebook users have enjoyed for years.
Apple's latest device connects to a Mac via Bluetooth, and will work from up to 33 feet away. The Magic Trackpad promises "months" of battery life.
The company says supported gestures are
"two-finger scrolling, pinching to zoom, rotating with your fingertips, three-finger swiping, and activating Exposé or switching between applications with four fingers."
Apple's Magic Trackpad is priced at $69.