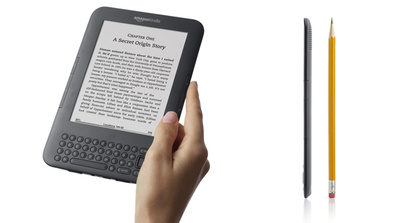 Amazon
has announced it will sell two new models of their popular
Kindle
e-reader beginning tomorrow, with one costing just $139, the cheapest price yet for a Kindle device.
To justify the price of the
Kindle Wi-Fi
, Amazon has removed the ability to connect to the Internet via 3G cell networks, making it Wi-Fi only.
The second model will replace the Kindle 2 and include 3G access, and will sell for $189.
Each new model is slimmer and include higher contrast screens and "crisper text." Both have six-inch screens, but weigh 15 percent less and are 21 percent slimmer. Each also has twice the storage of the original Kindles, allowing for up to 3500 books to be stored.
Says CEO Jeff Bezos
:
"The hardware business for us has been so successful that we're going to continue. I predict there will be a 10th-generation and a 20th-generation Kindle. We're well-situated to be experts in purpose-built reading devices."
The Kindle Wi-Fi is now cheaper than both the rival
Nook
and the lesser rival
Sony Reader
, and over $250 cheaper than the
Apple iPad
.
Pre-prders start tomorrow, and both devices ship August 27th.