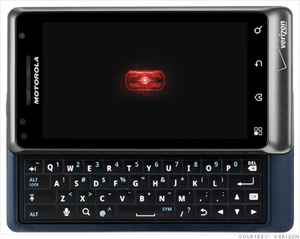 Verizon Wireless
has finally, officially launched the
Motorola Droid 2
, although weeks of leaks have already shown customers the price, specs and release date.
The device will hit stores on Thursday the 12th, with online pre-sales starting tomorrow morning.
Motorola's new flagship will sell for $200 with 2-year contract, or $600 without.
Furthermore, once all the inventory is depleted, the aging original
Droid
will be retired
.
The Droid 2 is very similar to its older brother, but with a few key differences. The sequel has a powerful 1GHz processor and twice the
RAM
, as well as a redone keyboard. Many owners of the original Droid complained about the slide-out keypad, which was off center in order to add a directional pad which was practically useless. The Droid 2 has a more centered keypad.
Additionally, the Droid 2 is silver-on-blue, includes
Android 2.2 Froyo
, and has a new Motorola "skin" just like the
Droid X
.