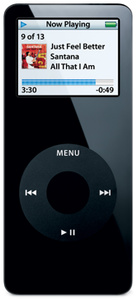 Apple
has said today it will begin replacing any
iPod Nano
that overheats in Japan, improving on their past offer of replacing only the batteries of said devices.
Japan's trade ministry had ordered Apple to "publish an easy to understand statement" on how owners of faulty devices could receive their replacement batteries.
The first generation Nano models, those sold between 2005 and 2006, are the ones in question, accounting for over 60 incidents of overheating leading to four cases of minor burns.
Apple has blamed the "very rare" occurrences on a single battery supplier.
Says Apple
:
"We've worked closely with METI (trade ministry) to make sure first-generation iPod nano customers who are concerned with their battery have the latest information."