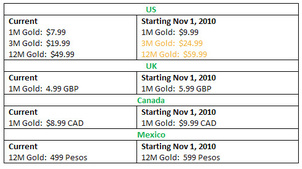 According to
XBL
director of programming Larry "Major Nelson" Hryb, a
Gold
subscription to
Xbox Live
will soon cost you significantly more.
Starting November 1st, users in the U.S., UK, Canada and Mexico
will face a price increase for the service
.
In the U.S., a one month Gold card will jump from $7.99 to $9.99. A 3-month sub will jump from $19.99 to $24.99. Finally, a 12-month sub will jump from $49.99 to $59.99.
In the UK, a 1-month sub will move from 5 GPB to 6 GPB.
Canadian gamers will see their 1-month sub price increase from $8.99 CAD to $9.99 CAD.
Additionally, in Mexico the 12-month sub will increase to 599 pesos from 499.
As a way to give back to loyal XBL fans before the price hike,
Microsoft
has dropped the price of the 12-month subscription in the U.S. to $39.99 until November 1st.