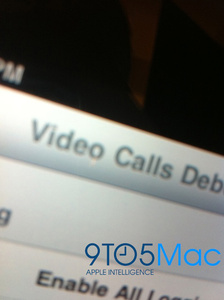 Thanks to
9to5mac
, the world now has a blurry picture of an alleged next-generation
iPad
, one that includes a front-facing camera and the ability to use
FaceTime
, Apple's video conferencing software.
The picture shows the tablet in debugging mode for video calls. The site says field-tested iPhone 4 models had the same debugging mode revealed before its eventual launch.
While the photo is of debatable authenticity, most consumers and industry insiders have anticipated that the next-generation tablet will include at least one camera.
During the recent September media event, CEO Steve Jobs said HDR photography was headed to the iPad with the upcoming
iOS
firmware
update, to version 4.2. The feature would seem useless without a camera.
Apple's new competitors, such as the
Samsung Galaxy Tab
and
Toshiba Folio 100
, include cameras, giving them a leg up on the iPad, in at least that feature.