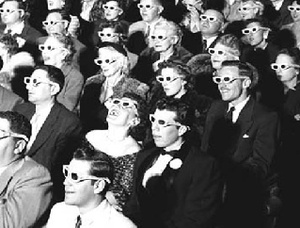 According to a new consumer study by
Nielsen
, users who have experienced
3D HDTVs
, ones that require special glasses, are less interested in buying a 3D set than those that have not.
"It's a marketing challenge,"
adds Frank Stagliano, Nielsen's general manager of TV Primary Research.
The report, titled "Focusing on the 3DTV Experience," is the
"first professional study of a group that represents the whole country and has experienced 3D TV firsthand,"
says Stagliano.
Stereoscopic glasses were the biggest deal breaker in regards to purchasing a set, with almost 50 percent of the 425 people surveyed complaining that they are uncomfortable or a "hassle."
89 percent of those surveyed complained that wearing the glasses made it almost impossible to do anything else.
Says the study:
"A lot of consumers, especially younger ones, like to multitask and were irritated that they can't."

Additionally, rival technologies and the expensive price of the glasses are additional "turn-offs" for 3D TVs.
Says Stagliano (
via USA Today)
:
"If I bring my Sony glasses over to a friend's house with a Samsung (3D TV set), they won't work. Viewers really get upset at that stuff."
Overall, only 25 percent of consumers want a 3D set before trying it, with that number falling to 12 percent after they have experience one.