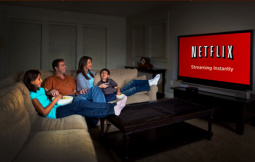 Netflix
has officially launched in Canada today, after first being announced early in July.
Canadian users will be able to stream unlimited movies and TV episodes starting at $7.99 CAD.
All new users are eligible for a one-month free trial (similar to users in the U.S.).
Netflix does make one important note, however, that the service only works in English for the time being, meaning French Canadians will not have a service for them for the time being.
The Canadadian service will only include
streaming
, with no physical media rentals plans in the works.
"With our launch today in Canada, Netflix is focused on adding meaningfully to the entertainment choices available to Canadian consumers,"
says CEO Reed Hastings.
"Convenience, selection and value are at the heart of the Netflix service, and it is our hope that this resonates with Canadians."
You can check
here
for more pricing details.