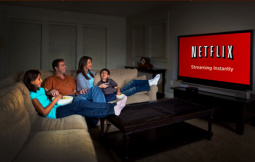 Netflix
has announced today that they have expanded their licensing agreement with
NBC Universal
, making more NBC TV shows available through the "Watch Instantly"
streaming
catalog.
The deal will include more seasons of hit shows like "30 Rock," "
The Office
," "Friday Night Lights" and "Law & Order: SVU."
"Saturday Night Live" episodes will be available the day after they air from now on.
Furthermore, the new deal adds episodes of "Battlestar Galactica," "Destination Truth" and "Eureka."
"This agreement adds meaningfully to the wide variety of content that can be streamed from Netflix and breaks new ground in our relationship with NBC Universal,"
adds Ted Sarandos, Netflix's chief content officer (
via the WSJ
).
Netflix continues to add movie and TV content on a regular basis, striking deals with Starz, Relativity Media, Fox and NBCU.