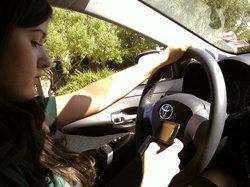 The
Goverrnors Highway Safety Association
has endorsed
a total ban on mobile phone usage while driving, making their decision after carefully analyzing the results of a study by the
American Journal of Public Health
.
AJPH's findings saw a 28 percent rise in "distracted driving fatalities" from 2005 to 2008.

Furthermore, the report showed 16,000 vehicle-related fatalities from 2001 until 2007 were caused by drivers texting at the wheel.

"It doesn't take a Ph.D. to know that cell phone use and driving is dangerous and that lives have been lost due to this practice," says Jonathan Adkins, a spokesman for the Association.

A few states, such as California, have already banned cell phone use whilst driving, voice and texting.

The Association is a group of state highway safety officials from across the US. The group has helped shape many past transportation safety policies in the past.