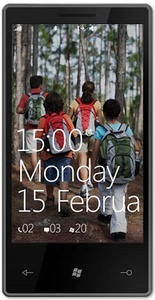 Microsoft
CEO Steve Ballmer has confirmed today that the company, along with
AT&T
, will hold a press conference on October 11th to unveil the initial lineup of
Windows Phone 7
devices.
Says
Ballmer of the devices:
"We've got to move forward, not shoot for yesterday. We've got to shoot ahead in a way that's delightful to users, accessible to developers and prioritize everything else we do around those elements."
Microsoft's smartphone business has been lackluster, to say the least, over the past few years with the icing on the cake being the failed
Kin
series which lasted two months in stores while selling under 10,000 units.
The company's smartphone market share has dived in the past few years, falling to under 12 percent in the United States as of this summer.
RIM, Android
and the
iPhone
account for the top 80 percent.
Samsung, LG, Dell
and
HTC
are expected to launch Windows 7 phone devices by the end of the year.