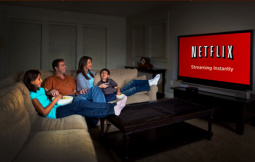 RWW
has reported today that
Netflix
rules Internet traffic during peak times in the United States as demands continues to increase.
Netflix currently has 16 million subscribers, most of which can access the company's "Watch Instantly"
streaming
catalog from their mobile devices, computers and TVs.
Given the strong demand, the site says Netflix accounts for just over 20 percent of all American downstream traffic during peak Internet hours.
Bandwidth
"consumption," however, still remains low in the U.S., compared to other regions, as the average connection time is 3 hours in the States compared to 5.5 hours average for all of Asia.
Netflix CEO Reed Hastings has made it clear that the company will continue to build its streaming service, even admitting that the company may soon offer a new streaming-only subscription package that will be cheaper than current mixed plans which offer physical rentals and streaming for consumers who may not care for rentals.