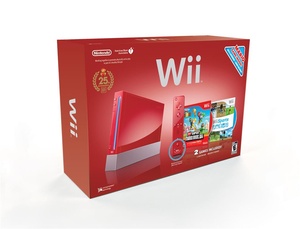 Nintendo
has
confirmed
today they will be releasing red
Wii
and
DSi XL
consoles, in an effort to continue their ongoing celebration of Super Mario's 25th anniversary.
For $199, the red Wii bundle will include the console, a Wii Remote Plus (with Motion Plus), nunchuck,
Wii Sports
and
New Super Mario Bros.
The
DSi
XL
bundle will sell for $179 and include the red handheld, Brain Age Express: Arts & Letters, Brain Age Express: Math, Photo Clock, and
Mario Kart
DS
.
Nintendo had made the colorway available in Japan previously.
Both bundles will be available on November 7th in limited supply and are available for pre-order now.